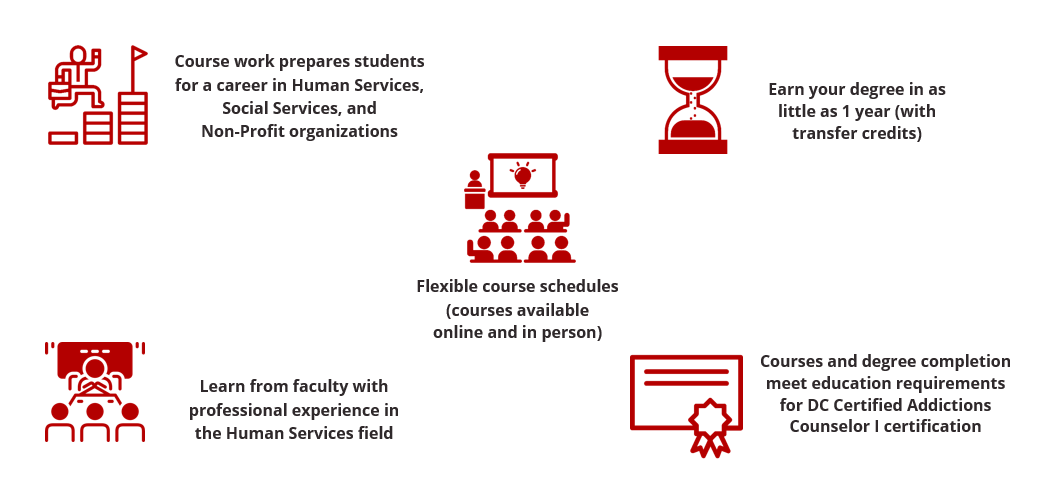 Upon completion of the AS-HSA degree, students are eligible to become Certified Addictions Counselors in the District of Columbia.
The Associate of Science in Human Services Administration program is designed to provide adult students with the practical industry knowledge of the human services field grounded in Catholic University's liberal arts core. Human service careers include both working directly with clients and administering/managing the systems and processes of human service providers.
The 60 credit AS-HSA degree consists of twelve HSA specific major courses, ranging from Human Services Administration to Case Management to Working with Couples and Families, and eight liberal arts courses providing students with critical thinking skills, college level writing instruction, and ethical considerations. In their final semester, complete a one semester field internship in the area of human services or complete an experiential portfolio detailing and analyzing previous professional field experience.
You will complete a core curriculum of the necessary skills in Human Service Administration providing tools and processes to give your career an accelerated start in social service offices, government, or not-for-profit. Classes are offered in the evening allowing you to work during the day. Classes meet once a week and begin at 6:10pm and end at 8:40.