May 22, 2018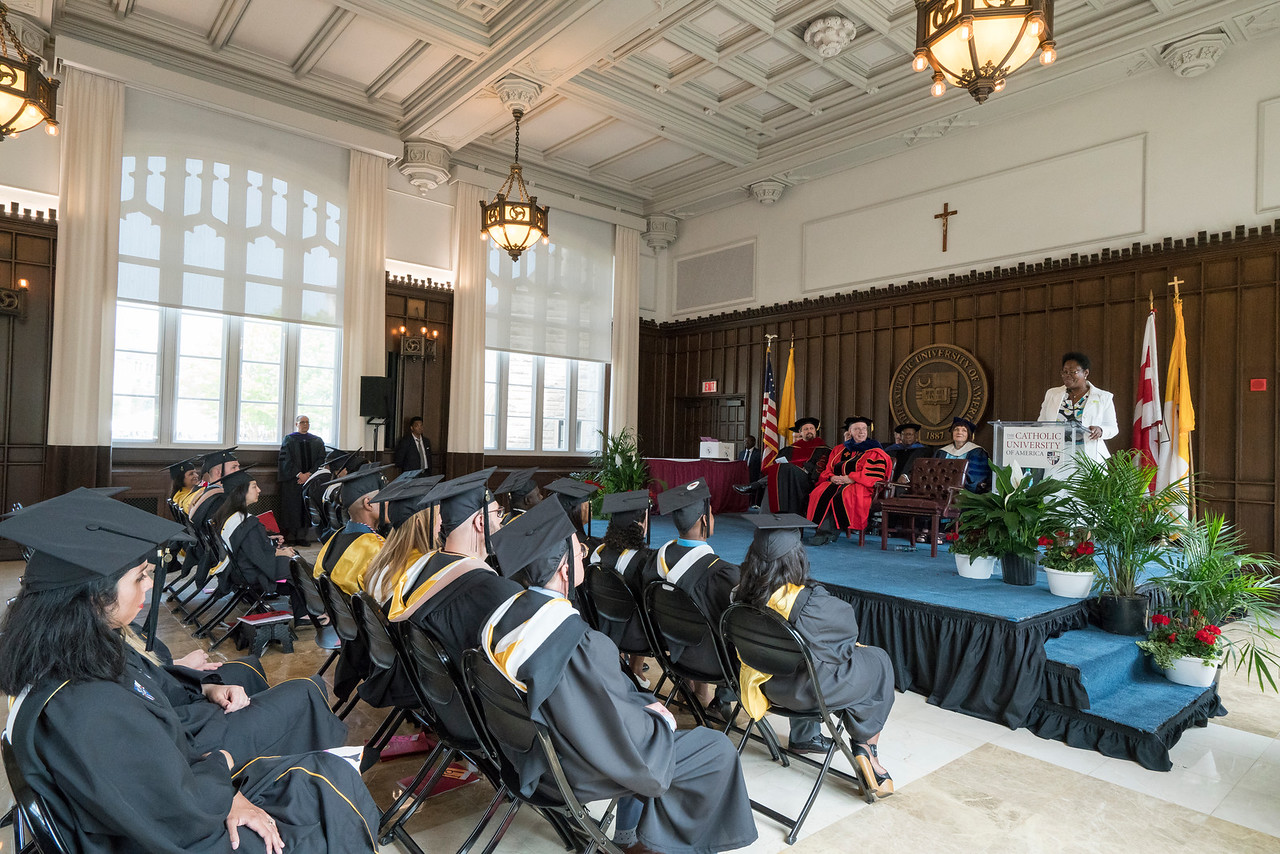 Fifty-two students from the Metropolitan School of Professional Studies received undergraduate or graduate degrees during the university's commencement exercises on May 12.
Eight received Master of Arts degrees, 24 earned the Master of Science in Management, four were conferred the Bachelor of Arts in Information Technology, 11 earned the Bachelor of Arts in Interdisciplinary Studies, four received the Bachelor of Arts in Management, and one earned the Associate in Science.
Twelve other graduate students received the Master of Science in Management degree from the Busch School of Business and Economics through a program jointly managed by Busch and MSPS.
After the university's commencement ceremony on the lawn adjacent to the Basilica of the National Shrine of the Immaculate Conception, the Metro students received their diplomas in a school ceremony inside Heritage Hall.
The ceremony opened with a flag ceremony performed by Boy Scouts from the Order of the Arrow in Washington, D.C.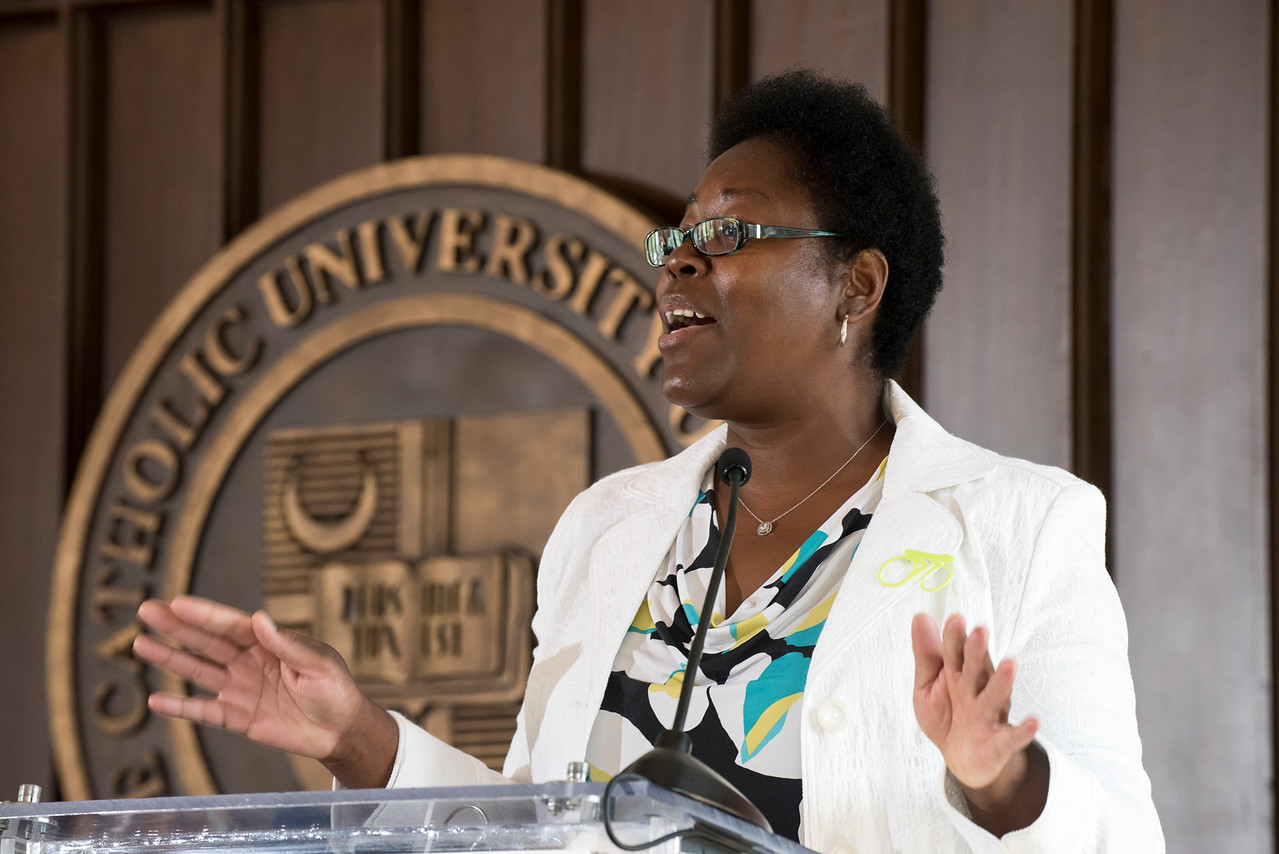 Dr. Mary Roary received the Metropolitan School's Faculty of the Year award. "Professor Roary's method of teaching focuses on providing her students with an opportunity to utilize their critical thinking skills and to allow for discussion while providing positivity and encouragement," graduating undergraduate Consuelo Del Pilar Mattis told the audience. "While teaching, Professor Roary is unpretentious, spontaneous, and real and believe me, she will not hesitate to tell it like it is for the goodness of her students. And being real allows her to encourage her students every step of the way because she has been there, she knows our plight and knows that sometimes the journey to reach our goals is not an easy one but once we get there, it is worth every sweat and tear."
"To be in Professor Roary's class is to be in an environment where you will he heard and acknowledged as an intelligent person who can achieve greatness," the student continued.
Accepting the award, Dr. Roary exhorted the students, "We should advertise that getting an education, learning, sharing, caring, giving, and teaching is sexy. Just like a rap star or a movie star, education is cool. It's a wonderful thing."
Dr. Roary said, "Every opportunity that you have, you should be the best that you can be, so that others can see your light  and want to not only shine but outshine you, causing a domino effect on the rest of the world."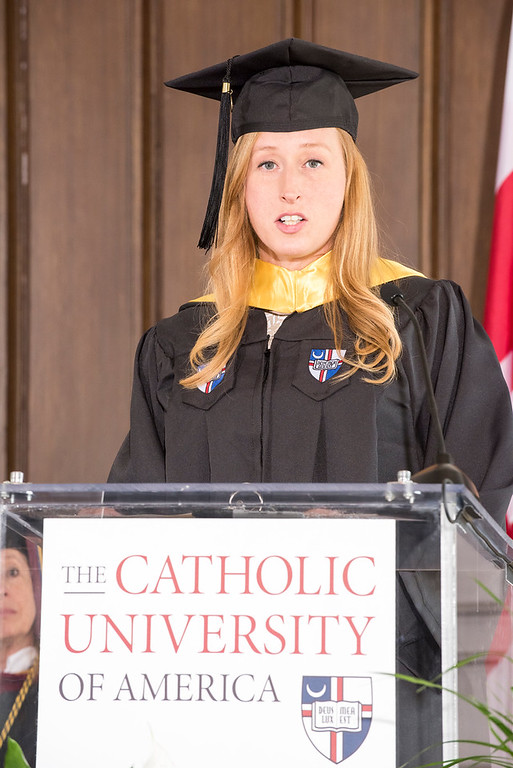 Also in the ceremony, graduating senior Amber Androsky thanked the late Vincent A. Sheehy III B.A. 1951 and his surviving family for their continued generosity to Metro undergraduate students through donating funds for the Sheehy Scholarships.  "The day I received my acceptance letter was one of the proudest and most grateful I have had," said Androsky, herself a Sheehy scholarship recipient. "It solidified my path to earning my diploma, and ensured, the days of new and better opportunity were right around the corner."
You can watch a recording of the full diploma ceremony below.
Related News