May 31, 2017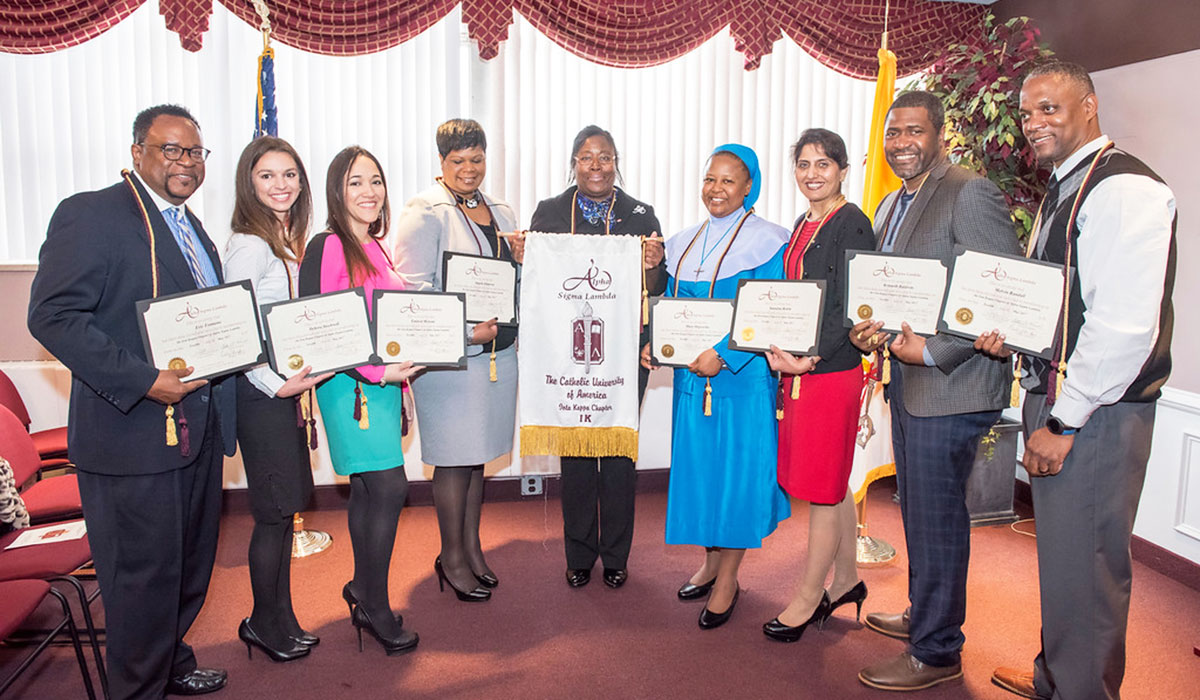 Seven outstanding undergraduate students at the Metropolitan School of Professional Studies at The Catholic University of America were inducted May 12 into the Alpha Sigma Lamda, Iota Kappa chapter.  An eighth member was inducted two weeks later because of a schedule conflict.
In the presence of family, friends, faculty and alumni, Dean Vincent Kiernan presented each new member with a membership certificate, membership card, pin and honor cords.
In addition, Professors Eric Fontaine and Mary Roary were inducted as honorary members of ASL in light of their professional and academic accomplishments. Professor Fontaine exhorted his fellow new members to remain steadfast in their efforts to be leaders. "Although of major significance, this honor you receive is another plateau as you climb forward with new skills and tested abilities," Professor Fontaine said. "It's about conceiving a dream, and then committing your resources, your all, to making your dream come true." (A video of the ASL ceremony at catholic University of America is available at https://youtu.be/eGCQv95yysQ)
Immediately after the ASL induction ceremony, the students proceeded to the Undergraduate Honors Convocation, held in the Basilica of the National Shrine of the Immaculate Conception on the CUA campus, where they were recognized along with other graduating students who had been inducted into other honor societies at CUA.
At the colloquium, three of the ASL inductees also received the Dean's Prosperitas Award. That award recognizes the graduating students with the highest GPA in each of the school's undergraduate degree programs.  The recipients were: Sunaina Rekhi, bachelor of arts in information technology; Debora Stockwell, bachelor of arts in management; and Sr. Mary-Christina Onyeocha, bachelor of arts in individualized studies. Well done by all!
Related News