May 18, 2019
11:45 AM
MSPS Diploma Ceremony
Heritage Hall inside of Father O'Connell Hall


MSPS Graduate Ceremony
GRADUATES OF THE MSM PROGRAM WILL ATTEND THE BUSCH SCHOOL OF BUSINESS DIPLOMA CEREMONY.  FOR MORE INFORMATION

CLICK HERE

.
Schedule of Events
FRIDAY, MAY 17, 2019
BACCALAUREATE MASS
Time: 4:00 PM
Location: Great Upper Church - Basilica of the National Shrine of the Immaculate Conception
PLEASE NOTE: Student procession will form at 3:30 PM in front of McMahon Hall and move promptly at 3:40 PM.  Students should wear their academic gowns without hoods. 
PRESIDENT'S RECEPTION
Time: Immediately following Baccalaureate Mass
Location: Edward J. Pryzbyla University Center
PLEASE NOTE: The reception takes place both inside and on the patio outside the center; heavy hors d'oeuvres and an assortment of beverages will be served.

 
GRADUATION DAY: SATURDAY, MAY 18, 2019
UNIVERSITY-WIDE COMMENCEMENT CEREMONY
Time: 10:00 a.m.
Location: East steps of the Basilica of the National Shrine (Map)
PLEASE NOTE: Graduates must arrive at 9:15 AM, line-up information to be announced.
METROPOLITAN SCHOOL OF PROFESSIONAL STUDIES DIPLOMA CEREMONY
Time: 11:45 AM (Directly following University-wide Ceremony)
Location: Heritage Hall inside of Father O'Connell Hall
METROPOLITAN SCHOOL OF PROFESSIONAL STUDIES LUNCHEON RECEPTION
Time: 12:30 PM (Directly following Diploma Ceremony)
Location: Father O'Connell Courtyard (Map)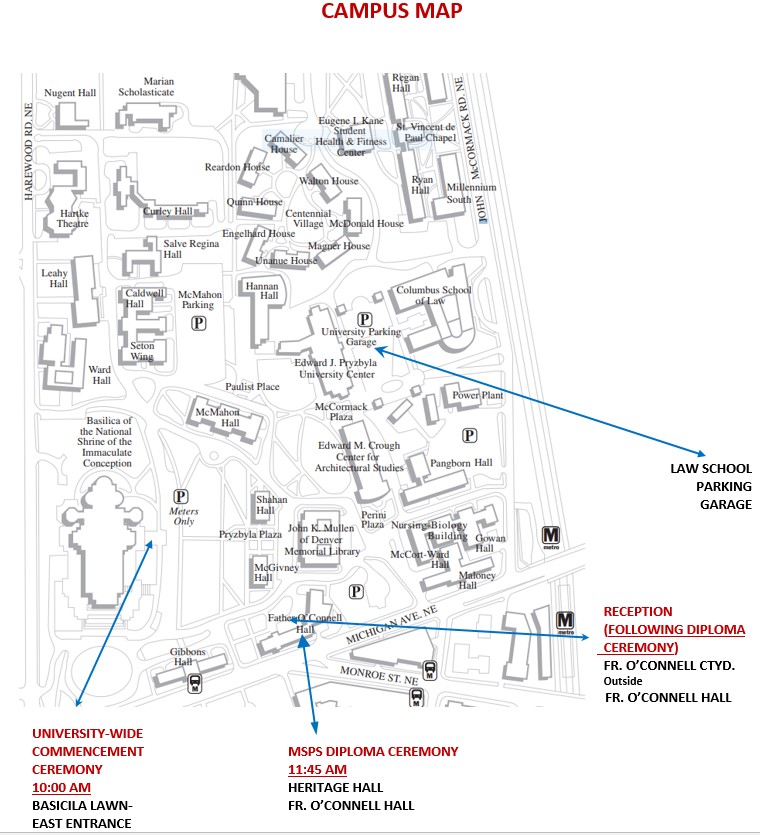 Student Biography Guidance Sheet
One of the benefits of MSPS's school specific commencement ceremony is that it is a more intimate affair. We understand the importance of this milestone and the myriad of sacrifices you have made in order to achieve it. As a way to be more personal and meaningful, The Metropolitan School of Professional Studies reads a short bio of each graduating student as they cross the stage to receive their diploma. You create your own bio as it is meant to be a brief introduction of who you are and it gives you a chance to thank the people that helped you along the way. Take a look at the example below and don't be afraid to inject of little of your personality. This is a celebratory day! Items often included: where you're from, where you work, what you are going to do now that you have your degree, inspirational words, who you want to thank.
Word Limit: 100 words 
Bio Sample:
Abigail (a-bih-gale), originally from Albuquerque, New Mexico, moved to Washington, DC with her husband Albert and son Gavin in 1996 after completing her service with the U.S. military. She subsequently joined the U.S. Department of Labor as an economic analyst and has been with the agency for nearly 13 years. In 2004, Abigail decided that it was time to complete her bachelor's degree. Though difficult at times, Abigail shares that her time at CUA has been incredibly rewarding. She would like to thank her dear husband, terrific son, and loving mother, Constance, for their support and encouragement.
Please send completed bios to mspscommencement@cua.edu  by April 26, 2019.
PARKING FOR COMMENCEMENT EVENTS
When you drive onto campus, look for a Public Safety Officer who will direct you to available and convenient on-campus parking, including spaces reserved for handicap parking. 
RAIN PLAN
Metropolitan School of Professional Studies will not need a rain plan for the Diploma Ceremony, which will be held inside (Heritage Hall in Father O'Connell Hall).  However, in the event of rain, the luncheon reception scheduled outside on the Father O'Connell Courtyard will be moved inside to Heritage Hall. 
HONOR CORDS
Are you a graduating Veteran/active Military or former ROTC member who is graduating from MSPS or MSM this spring? We have red, white and blue honor cords for you to wear with your academic gown. Contact Ed Schaefer, schaefer@cua.edu for more information.