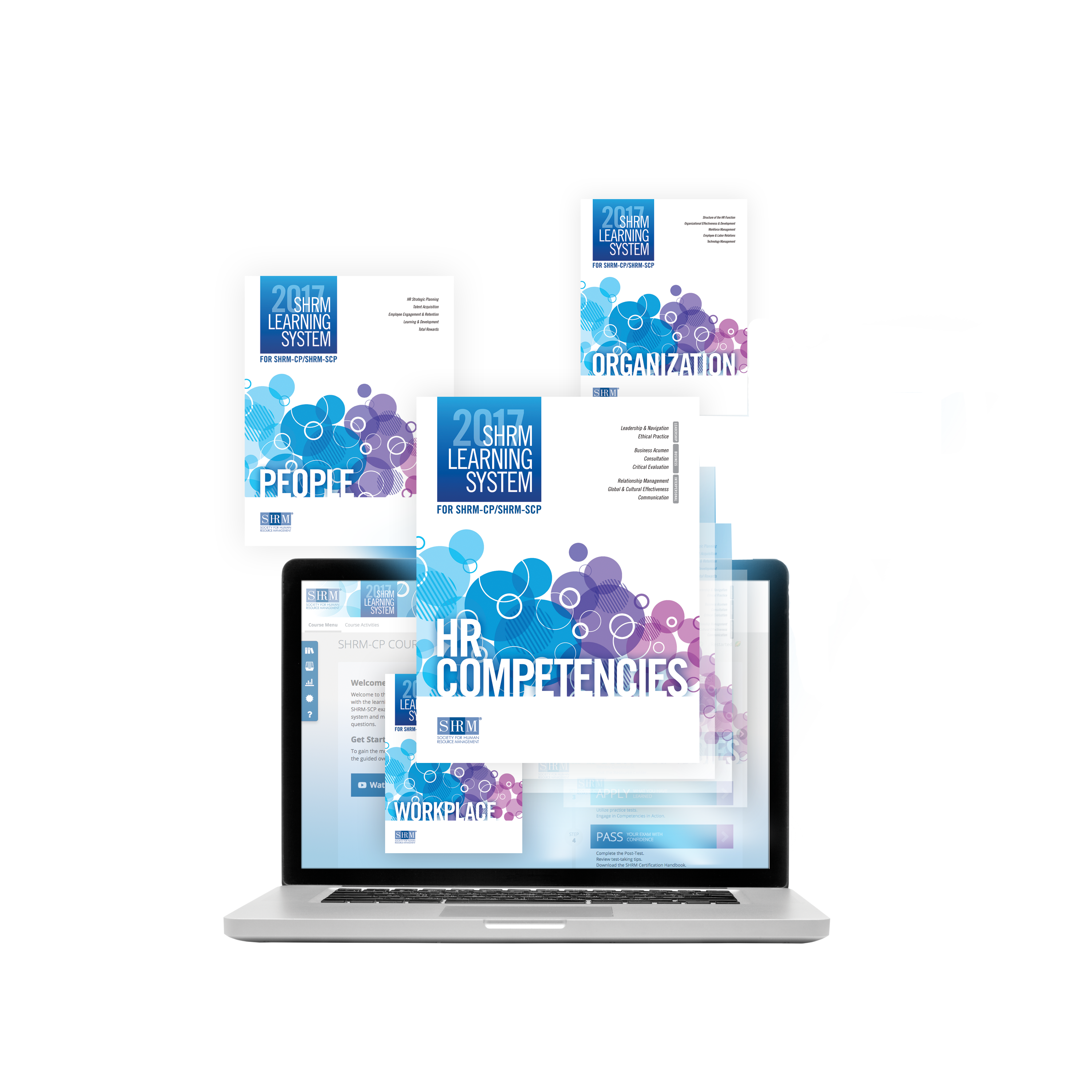 Offered in partnership with the Society for Human Resource Management (SHRM), the curriculum is designed by global subject matter experts and covers the entire SHRM Body of Competency and Knowledge™ (SHRM BoCK™) which encourages HR professionals to acquire the Competencies and Knowledge they'll need to effectively perform their jobs and achieve career success. Our course is designed to help you learn and retain the material effectively and efficiently by combining the best exam preparation system with expert instruction and peer discussion.
As part of your course, you will receive the SHRM Learning System for SHRM-CP/SHRM-SCP. Comprised of comprehensive learning modules in print and e-reader formats, and advanced online resources, these study materials streamline study time, accelerate learning and build confidence for passing the SHRM-CP/SHRM-SCP exam.
By attending our course, you'll benefit from:
An experienced, certified instructor.
The SHRM Learning System, historically ranked the #1 HR certification prep tool.
Ability to acquire the knowledge and understand the behavioral competencies to help you prepare for the exam.
A structured learning experience that keeps you on track.
Opportunities to network and learn from your peers.
Up to 36 professional development credits (PDCs)
Who Should Enroll in This Course?
Our certification preparation course is designed primarily for individuals seeking SHRM-CP or SHRM-SCP certification.  Certification is a great choice for HR professionals who want to:
Increase their knowledge.
Advance their skills.
Earn recognition from the global community.

Applicants must show that they have worked in an HR role for more than 1,000 hours within a calendar year, which equates to 1 year of experience.
HR experience may be in an HR exempt or nonexempt capacity.
Applicants with a graduate degree (or global equivalency) in HR must currently be employed in an HR role.
HR experience may be classified directly, as working in an HR role, or indirectly, by consulting, educating or researching HR practices linked specifically to human resource management.
SHRM membership is not required.
Advancing your career. For those not seeking certification, the SHRM Learning System for SHRM-CP/SHRM-SCP course provides a comprehensive and accelerated option for professional development. Participants gain a generalist viewpoint, refresh key ideas and concepts, strengthen their understanding of core HR competencies and increase productivity.
*PHR, SPHR, GPHR, HRBP, HRMP are registered trademarks of the HR Certification Institute and are not SHRM certifications.