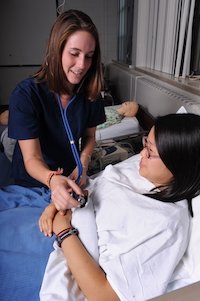 The 4-course online program is geared toward learners with minimal to no Spanish language background. Each class builds on language and vocabulary at the same time as medical terminology. Students develop working language skills for optimal communication applicable to the current healthcare environment. The program also stresses sensitivity to and respect for cultural and ethnic diversity in a healthcare setting.
The SHP certificate consists for 4 online courses (3 Medical Spanish classes and 1 Cultural Competence in Health Care class).  Each class consists of 20 contact hours of participation. Students can take individual classes or complete 4 classes and be awarded a certificate in Spanish for Health Professionals (200 hours). Classes can be taken in any order are grades are awarded on a pass/fail basis. C or higher required.
By the end of this intensive 4-course certificate program, learners will be able to:
Achieve a basic communicative competence in medical Spanish.
Accumulate a specialized vocabulary appropriate to health care situations.
Empower healthcare professionals to better communicate in Spanish and develop stronger relationships with clients by reducing miscommunication.
Develop an appreciation and understanding of cultural differences within various Hispanic cultures.
Identify and understand the personal beliefs of patients to provide the highest quality care in a culturally sensitive manner.
Expand skill sets to improve medical Spanish and cultural awareness to better serve the health care needs of the traditionally underserved Hispanic community.